I am a Finland-based German concert organist and accordionist. Both instruments enrich me as an interpreter in a very personal and creative way. My goals are to enhance the prestige of the concert accordion as a sophisticated, expressive instrument and to establish the organ furthermore as an instrument for contemporary art music. Working on the highest level, being visionary, performing with great virtuosity and expression are my leading principles. Therefore I focus on ergonomics, naturalness, and developing myself as a performer and pedagogue.
2022 starts with a special single-day online festival!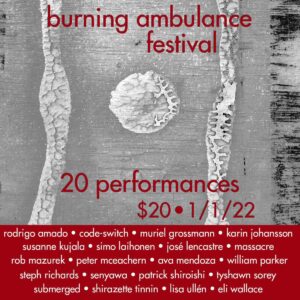 • the festival starts at noon ET (GMT -5) on the
Burning
Ambulance
Music Bandcamp page
• tickets are $20
Release of the Digital Release of the Complete Recording of J. S. Bach's Wohltemperiertes Klavier I on Dec 21
Here teaser audio of Prelude & Fugue in F-Sharp Major BWV 858.
The tuning of the concert accordion is well-tempered (Bach-Lehman).