I am a Finland-based German concert organist and accordionist. Both instruments enrich me as an interpreter in a very personal and creative way. My goals are to enhance the prestige of the concert accordion as a sophisticated, expressive instrument and to establish the organ furthermore as an instrument for contemporary art music. Working on the highest level, being visionary, performing with great virtuosity and expression are my leading principles. Therefore I focus on ergonomics, naturalness, and developing myself as a performer and pedagogue.
Solo Recital at the Elbphilharmonie Hamburg with World Premiere
On April 11th, I am honoured to perform a program around BACH and very new music at the Elbphilharmonie Hamburg with the majestic Prelude and fugue in E flat major BWV 552, Maija Hynninen's Trois Mondes for organ and electronics, Max Reger's Phantasy and fugue on B-A-C-H op. 46, and Moritz Eggert's Was können wir tun? (2022). The evening culminates in the premiere of Veli Kujala's newest organ work Aurora Borealis.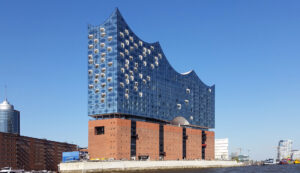 Complete Recording of J. S. Bach's Wohltemperiertes Klavier I
The tuning of the concert accordion is well-tempered (Bach-Lehman). You can find the album on the usual digital platforms such as Spotify: